Auto A/C and Heating Repair
Do you need a reliable Port Moody auto repair shop?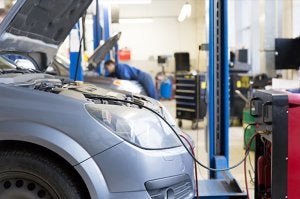 Whether it's winter, summer, or somewhere in between, it's important to be comfortable inside your vehicle. If your heating or air conditioning system in your car isn't operating properly, our team at Vancouver Brake and Wheel Ltd can help. Our certified Red Seal mechanics can maintain your climate control systems at top efficiency!
Here are a few common auto A/C and heater issues:
Temperature fluctuations or failure to reach desired temperatures
Coolant / refrigerant leaks
A worn-out thermostat
Electrical issues
Compressor issues
Buildup in your system's evaporator
Beyond temperature control, your auto's cabin defroster system needs to be operating well to offer maximum visibility through your windshield. There's nothing more frustrating and dangerous than having to continually wipe the inside of your vehicle's windshield so you can see the road ahead. Keep comfortable and keep safe with the help of Vancouver Brake & Wheel Ltd. Contact us at (604) 461-3258 for all your Port Moody garage needs!