Shocks & Struts Service
Making Your Ride Smoother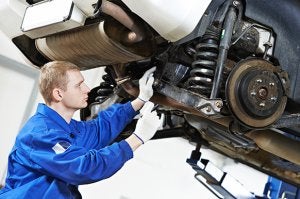 Your automobile's ride and handling are highly dependent on your shocks and struts. With worn-out shocks or struts, your vehicle will be bouncing around as you travel, and your tires will spend less time in contact with the road. Both of these situations are uncomfortable and, even worse, dangerous.
Let our mechanics at Vancouver Brake & Wheel Ltd keep you riding smoothly over the Port Moody and Tri-Cities roads with our professional installation of top-quality shocks and struts. With your tires in full contact with the road, your car's steering and braking capabilities will be enhanced. When your shocks and struts are finally operating as they should, your vehicle will ride "tighter," meaning it will no longer bounce excessively and you won't have to fight the wheel to track down the road.
You may want to get your shocks and struts checked if you notice:
Excessive bouncing (especially when you go over bumps)
Your vehicle leaning when you make turns
Your car nose-diving when you brake
Your vehicle "squatting" when you accelerate
"Cupping" of your tires (inconsistent tread patterns)
Fluid leaks
For repair or replacement of your shocks and struts, contact us at (604) 461-3258.