Preventative Maintenance
Give Your Vehicle the Proper Care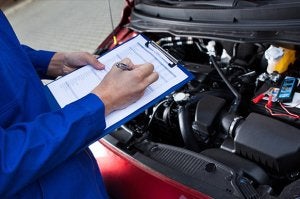 Regular preventative automobile maintenance can save you heaps of money in the long run by helping you avoid expensive breakdowns and maximizing your vehicle's lifespan. Also, in the short run, proper maintenance can help you save you on fuel costs by keeping your car running efficiently. Let the professional mechanics at Vancouver Brake & Wheel Ltd inspect and service your vehicle so you can prevent small problems from becoming larger ones!
Preventative maintenance usually includes services such as:
Oil changes
Tune-ups
Fluid and pressure checks
Brake inspections and service
Battery service
Filter replacement
Replacement of worn-out or faulty parts
Auto Maintenance in Port Moody & the Tri-Cities
Do you notice a little sputter in your engine now and then? Or is there an odd squeal under the hood that you haven't heard before? Maybe all you need is a tune-up or your fan belt replaced. Our mechanics at Vancouver Brake & Wheel Ltd can do it all for you. For preventative maintenance, please contact our Port Moody garage at (604) 461-3258.